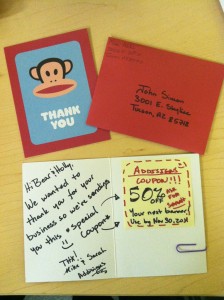 Direct mail marketing continues to be one of the most effective marketing methods available for small businesses. To make this marketing style truly effective you must stand out! To get into the "A" mail pile (and not be tossed in the trash) you must grab your customers attention with something that is relevant and visually stimulating, something that they will open because they have to know what's inside.
That's where Leap Frog DG comes in. We focus on:
Understanding Your Ideal Customers and their tastes/ desires
Developing Targeted Design & Copy to pull in Your Ideal Customer
Utilizing Stand Out Headlines so they read what your material
Creating Dynamic and Engaging Mailings that GET RESULTS
Having great follow-up sequences in place to maximize your results
We offer single-run or full-year marketing packages so you can schedule every promo, mailer, and event – ahead of time – for an amazing year of marketing that your customers will love (your pocket book will thank you too!).
There are many high quality products and businesses that fail  because of poor marketing. Don't let this be you! Contact Us today to get started.
Category: Portfolio